Directions to the Yankee Fork Gold Dredge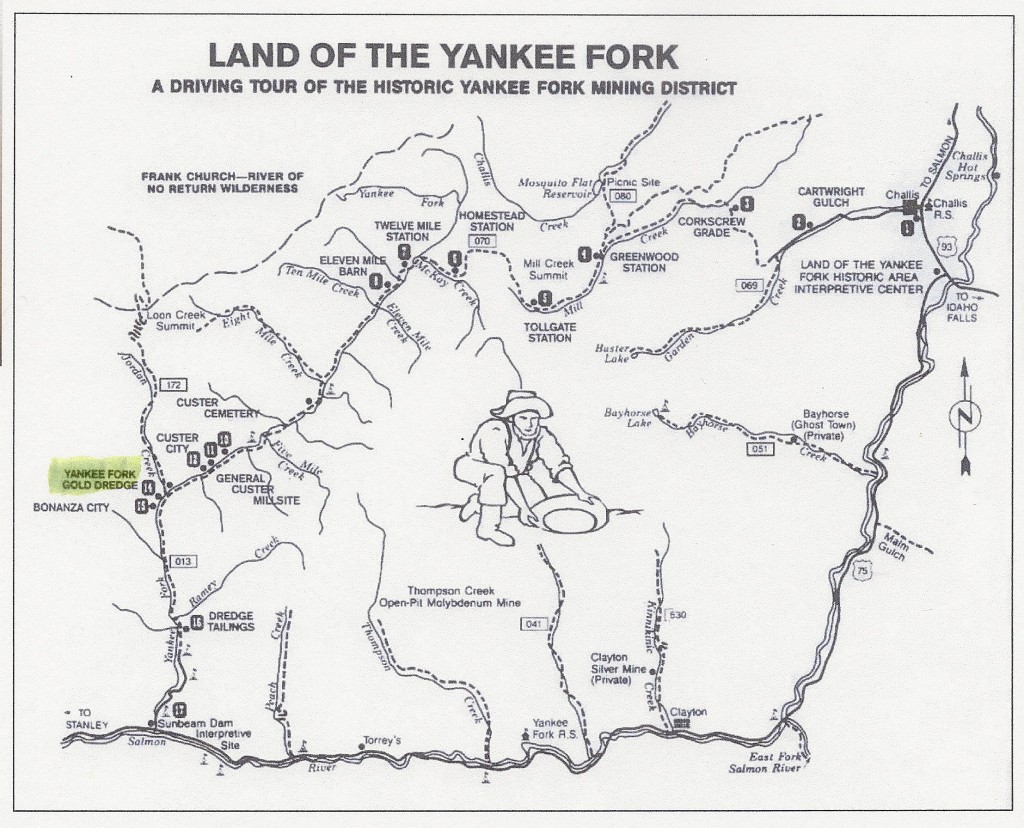 The dredge is located in the central mountains of Idaho close to the Frank Church River of No Return Wilderness Area. The nearest town is Stanley which is 22 miles from the dredge. Stanley is a hub for outfitters for rafting and kayaking trips on the famous "Middle Fork" and the Main Salmon rivers. There is spectacular camping and hiking around the area. Redfish, Alturas, and Stanley lakes provide many recreational opportunities. There is abundant camping nearby the dredge and along the Salmon river, or motels in both Stanley and Challis.
From Stanley take Hwy 75 east to Sunbeam (13 miles) then turn north and follow the Yankee Fork river 10 miles to the dredge. The dredge sits on the left side of the road; you won't miss it. Once you leave paved road, you'll see dredge tailings along both sides of the road, reminders of the path the dredge traveled during its years of operation.
From Challis take Hwy 75 west to Sunbeam (42 miles from junction of 75 and 93) then right 10 miles to the dredge. Before you leave Challis be sure to stop at the Land of the Yankee Fork State Park which includes an Interpretive Center that is run by Idaho Parks and Recreation Department. Very good museum and interpretive center.
Mileage from some key areas:
Boise to the Dredge = 150 miles
Idaho Falls to the Dredge = 182 miles
Twin Falls to the Dredge = 164 miles
West Yellowstone to the Dredge = 288 miles