Custer Ghost Town
Open Memorial Day weekend through Labor Day.
Guided or self-guided tours.
Museum, restored mining era buildings.
Saloon and gift shop.
Click here for additional information.
Lode ores were found on the mountains surrounding Jordan Creek and the Yankee Fork in 1875. The richest claim, the General George Custer, was named after General Custer who was killed the same year of the discovery, in 1876. In 1879 lots were sold and the new town of Custer established. It became the support center for the General Custer, Lucky Boy, and other mines in the area.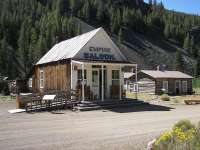 Businesses catering to the needs of the miners were soon springing up and lining the "one street town." Chinatown was located at the southern end of Main Street. By 1896 Custer had a population of 600. Custer sported a school house, jail, Miners Union Hall, post office and a baseball team. By 1903, the glory days of mining were slipping away as the mines played out one by one. Business slumped and by 1910 Custer had become a ghost town.
The Challis National Forest took ownership of the area in 1960, and in 1981, Custer was placed on the National Register of Historic Places. Through the efforts of the Friends of Custer Museum, (now The Land of the Yankee Fork Historical Association) the site was kept open for the public to enjoy. In 1990 the Idaho Department of Parks and Recreation joined the Forest Service and the Land of the Yankee Fork Historical Association in managing Custer. Custer lies within The Land of the Yankee Fork State Park.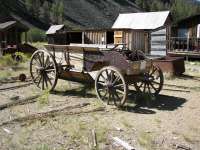 Custer now has numerous buildings from the mining era on display, a Museum in the old school house and the Empire Saloon is a gift shop with old fashioned sodas to refresh yourself after you've gone on a guided or self guided tour of the town. You can listen to fun tales of the miners and some of the old residents of the town as you take a guided tour in the Museum. The town is open Memorial Day Weekend through Labor Day for visitors to enjoy the interpretive history. Plan on joining us the 2nd Saturday in July as we celebrate Custer Day with Old West Shootouts, Melodramas, Dutch Oven cooking, home made ice cream, and much more.