Open Saturday before Memorial Day through Labor Day
Tours daily from 10 AM to 4:30 PM
Adults – $5
Children 6-12 – $1
Group rates available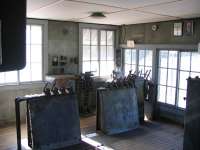 Tours of the dredge have changed in the last few years.  Originally it was a fully guided tour for however many visitors were on site at the time.  Depending on the guide you could get a very "technical" tour which many in the group might not want.  Also it was very taxing on the volunteers, who are usually senior citizens.  A full tour usually took from an hour to hour and a half.  Leading three to five tours a day was extremely tiring for the volunteer.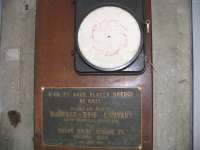 A few years ago we initiated a self guided tour.  We made some safety upgrades and tried self guided tours for the last 3 weeks of that year.  It was an overwhelming success.  Those that wanted to know everything about the dredge asked questions of the volunteers and those that wanted to read the interpretive signs at leisure did so.  And some people just wanted a quick walk through.  The way tours are conducted now accommodates any level of tourist curiosity.

Your adventure starts on the "front deck" and continues into the "winch room" where a modest tour fee is collected.  Continue upstairs through the "resistor room" and finally 34 stairs and 4 stories up into the "control room."  A volunteer is on hand to answer any questions and possibly provide some details on how the dredge worked as well as duties of its workers.  Then on to the "rock ejector, bull gear, trommel, and spud" before descending a stairway down to the "stern oiler position."  The "sluice boxes" are next then down to the main deck and the "gold collection station."  You won't want to miss the two huge diesel engines before the last station, the "save all."  That ends the equipment part of the tour which brings you to the Picture Gallery.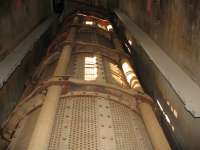 2009 was our first year of the Gallery and we find that people are spending a considerable amount of time looking over the pictures, documents and artifacts.  We hope to have this area remain a "work in progress" as we get new and different material to enhance it.  Repeat visitors may recognize that the Picture Gallery is the location of our old gift shop.
Which brings you to In our new gift shop, built in 2008, you will find many historical, educational and memorable keepsake items to browse through and purchase.
That ends the tour and, we hope, a wonderful experience.  The Yankee Fork Gold Dredge is a piece of history that you cannot see everywhere.