Volunteers Needed!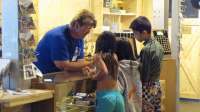 Volunteers are needed for the summer season to be interpretive hosts for the Yankee Fork Gold Dredge. This job entails answering questions about the dredge from tourists taking the self guided tours. Also needed is assistance with sales in the gift shop. The job is not difficult but occasionally a guide will need to go up the 34 stairs to the top of the dredge. We are at 6000 ft elevation so it may take a while to acclimate yourself. Mornings are cool but if you're looking for a spot that is not HOT then this is for you.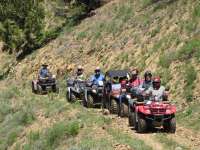 Volunteer hours are 10:00 am to 4:30 PM. Work schedules may vary but usually you will be working some weekends. We try to adjust schedules to the individual needs. Volunteers receive a stipend for each day of work. Most volunteers work 3-5 days per week. Ability to interact with the public is a must.
Volunteers are provided RV parking in a lovely secluded RV camp. The camp is in a pine forest and has ample space between rigs. A fire pit and table are at each space. There is water and sewer hookups. Free showers and laundry are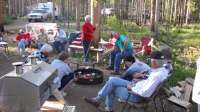 provided. There is no electricity so generator and or solar panels are necessary. Phone for personnel is available at dredge plus we have a Verizion extender which enables you to use your verizion phone on the dredge or close to it. TV reception is available via your personal satellite. High speed wireless internet is provided at the dredge.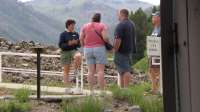 The Yankee Fork Gold Dredge is located in central Idaho about 22 miles east of Stanley, Idaho in the spectacular Sawtooth Mountains. See Directions for detailed directions to the dredge and camp. Outdoor recreational opportunities abound in this area. Fishing, 4 wheeling, boating, white water trips, gold panning, hot springs, wildlife viewing and exploring ghost towns are popular activities. If you are into 4 wheeling there are a lot of neat trails to explore. Wildlife in the area include deer, elk, bear, moose, mountain goats, wolves, & coyotes. Also in the last couple years we have had a steelhead and salmon run and they can be observed in the Yankee Fork.
If you are interested please contact:
Billy Reed
bj_reed@q.com
Winter phone number is (208) 761-9244
Summer phone number is (208) 838-2529 (Labor day to Memorial day)
Our mailing address is:
YFGDA
PO Box 1321
Challis ID 83226
Click here for Application form